Naturally Beautiful Locations in Korea to Visit
Nature is simply interconnected with the Environment. It is a vast concept wherein when asked, we would name the trees that we see, the flowers that we can smell, the mountains that vary in height and in sight, the animals that create a cascading sound that rings a bell and strikes a chord in our ears, and most especially, the wide array and dimension of beautiful creations that are amazingly unique and bountiful, is what makes Nature a source of appreciation for every person, human being and nature lover in that sense. Although, if we look at the other parts of the world, other countries are faced with environmental and natural problems that are brought about by human destruction from time to time. But the good thing to ponder on is that, other countries remain steadfast in preserving Nature and in caring for the Environment, for it is through Nature and Environment, that sustainable and equitable balances is achieved within the people living in the country and with the resources available in the country, respectively.
Evidently, Korea as a country in East Asia is divided into two distinct sovereign states which are: North Korea and South Korea. Personally, based on my first-time experience of visiting the country, I was blessed with the opportunity to see this amazing country last October 2018, with my Dad and with my Sister, since my Mom passed away already in January 2018. And indeed, I was amazed and stunned with what the country can offer to its first-time tourists. From the very moment wherein the plane landed in the Incheon International Airport, until the moment wherein we were whisked away and escorted to ride the bus going to our respective hotel, and continuously up to the moments wherein we had varied visits and tours to the historic and scenic tourist spots of Korea, in which we had in the duration of our 5-day stay in the country, and as enlisted and planned by the travel agency that we booked our vacation with, everything for me was a dream that was fulfilled and truly became a reality. In this article, I will be sharing to you, the 8 Naturally Beautiful Locations to Visit when in Korea. Honestly, two of the eight places that are featured in this article were personally visited by me and all I can say is that " It is fun and worthwhile to be in Korea and when in Korea, travelling is both a leisure and a form of discovery and relaxation.
Jeju Island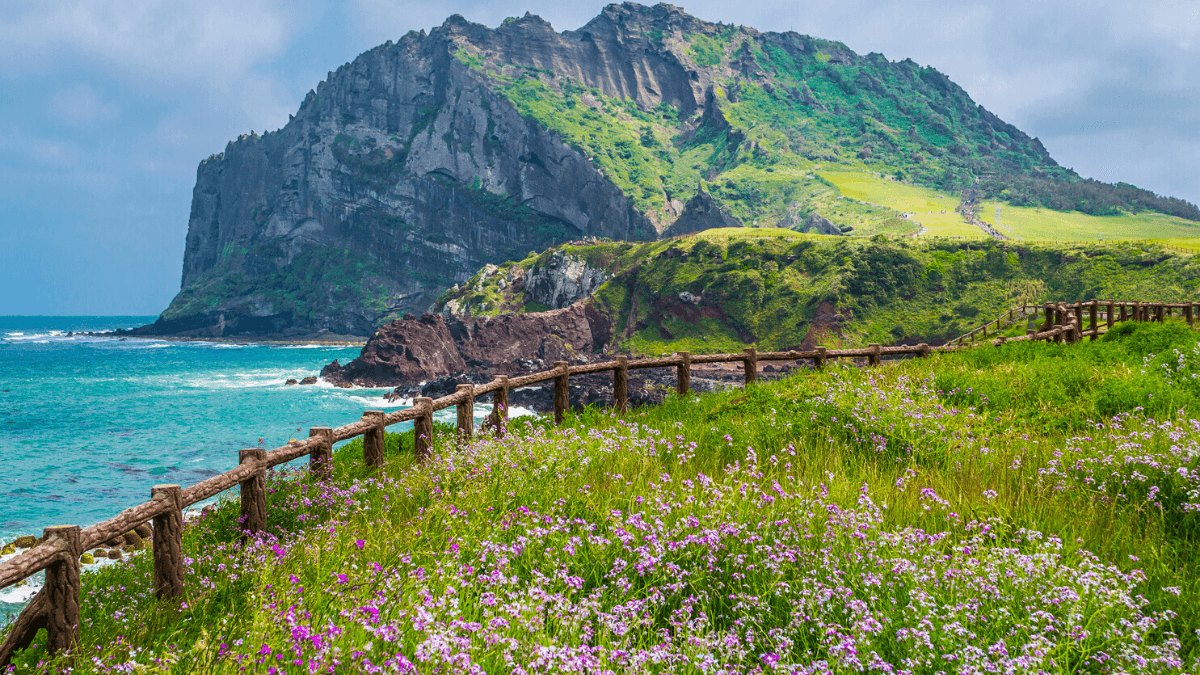 For tourists who are currently involved in a romantic relationship, who is married, or even for the single tourists respectively, Jeju Island is the perfect place for you to visit when in Korea. Aside from being naturally beautiful, the ambience of Jeju Island is romantic and serene, which makes lovers feel their love and romance for each other, and for the single tourists to enjoy the picturesque view of the island. Jeju Island or Jejudo, as the name of origin of the island, is a volcanic island located in the Jeju Province of South Korea, geographically speaking. Upon visiting the interior part of the island, a World Natural Heritage Site can be seen, which comprises the Jeju Volcanic Island and the Lava Tubes. On the other hand, Jeju Island serves as the home of Hallasan, the dormant volcano of South Korea. Hallasan stands 1,950 meters above sea level. Another interesting fact to know about the Jeju Island of South Korea is that, it is a UNESCO Biosphere Reserve that contains a crater lake, alpine plants, woodpeckers, butterflies and chipmunks. Truly, when in Korea, if you are looking for a place that is both romantic and scientific, Jeju Island is the best place for you, as a first-time tourist. No matter what your civil status may be, what matters most is that, when in Jeju Island, you are not only experiencing what the island can offer to you as a tourist and visitor, but also, you are enveloped with a feeling of being in an evergreen paradise enriched with the beauty of Nature.
Seoraksan Mountain
Are you looking for an adventure that will both leave you in awe and amazement? Then, a visit in Seoraksan Mountain or Mt. Seorak will be an experience that you will never forget. Seoraksan or Snowy Peak Mountain as an easy translation in English for its Korean name is factually, South Korea's third largest mountain. Geographically, it is located in the northeast portion of Korea that stands tall with its height of 1, 708 meters and 5, 604 feet, at its highest viewpoint. Every tourist who visits the Mountain for the very first time appeal to every traveller, to grab the opportunity of walking and trekking in a variety of hiking trails, as well as to have a close encounter with its beautiful scenery, including its waterfalls, cliffs and clear mountain streams. As an advice, the best and perfect time to visit Mt. Seorak or the Seoraksan Mountain, is during the Autumn Season in Korea, wherein the forest is painted in vibrant and colorful shades of red and yellow. On the other hand, it is not advisable to visit the mountain during the rainy season, since the trek and trail in going to the Mountain, is slippery, thus it could risk every tourist to an unprecedented accident. For a threshold of experience in Korea that encapsulates Nature's Vibrance and Equinity, a visit to Seoraksan Mountain will surely equalize this tourist need of yours. Because when you are in Seoraksan Mountain, you are not only beholding the great site of this mountain, but you come to your senses and realize that indeed, Korea is a country that has a bunch to offer to the world, in terms of its Tourism as a country. And that is greatly evident during my personal visit and tour to this mountain. Indeed, a beautiful add-up to your travel bucket list.
Cheonjeyeon Waterfall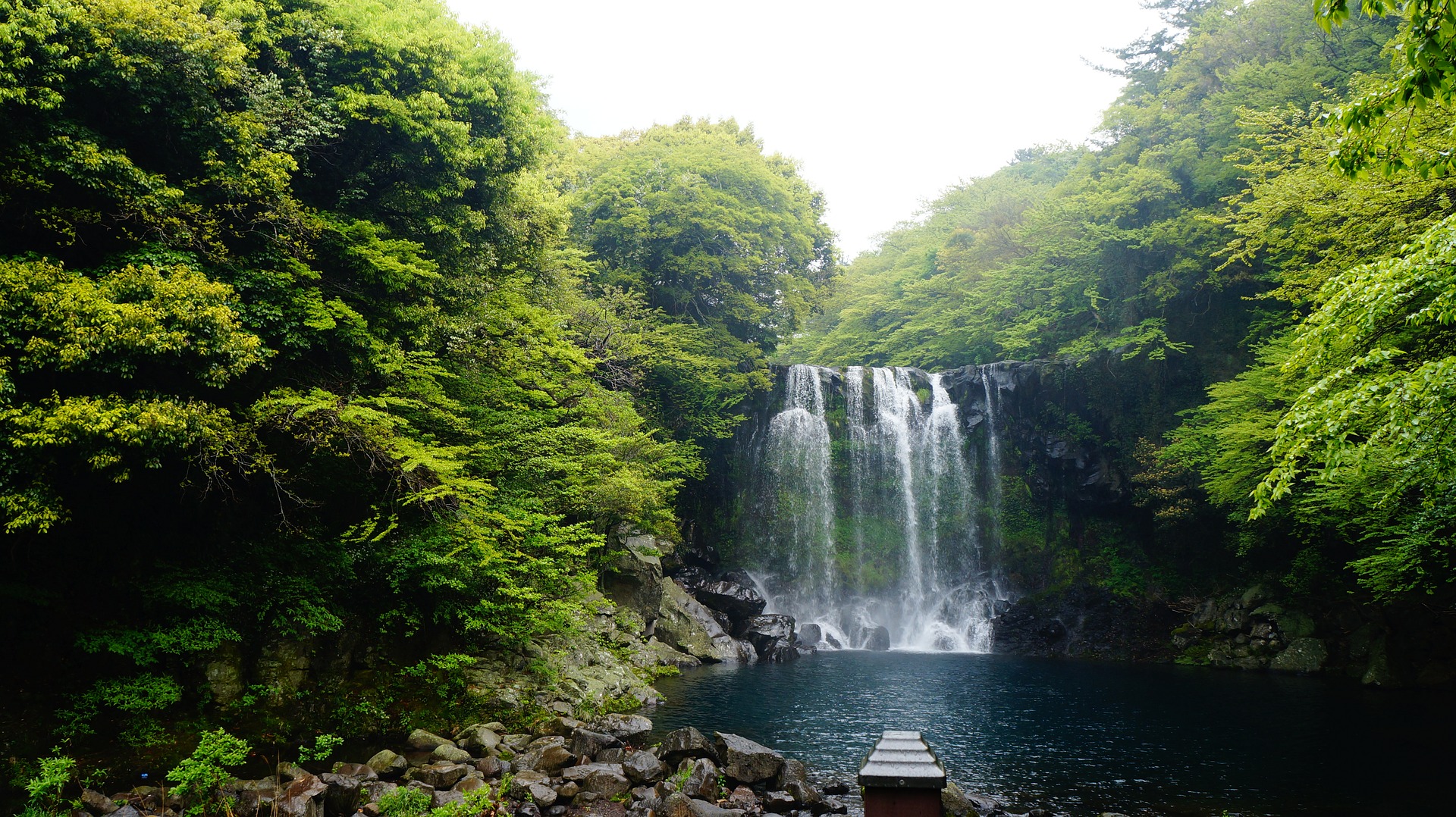 Are you looking for a heavenly experience in South Korea that allows you to have a close encounter with its crystal clear and pristine waters? Then, the Cheonjeyeon Waterfall is the best place for you to experience such a terrific feeling. Located on Jeju Island, this waterfall is another natural wonder and gift that South Korea can share and offer to the rest of the world. Cheonjeyeon, the Korean name of the waterfall in the English language means, "Sky connected with Land." It is a three-level waterfall that stands at 72 feet tall and 39 feet wide, and showcases water that flows continuously out from the ceiling of the cave. Upon your personal encounter with the waterfall, and if you would take a closer glimpse around it, you will see a park like area with a bridge, as well as a classic pavilion next to an artificial pond located at the bottom of the waterfall. With your needs for relaxation, refreshment and invigoration, the Cheonjeyeon Waterfall will surely satisfy your three-part need. Because it does not only calm the senses of the first-time tourist, but also, it has a great take to the natural beauty of South Korea. The pristine and crystal clear waters that the Cheonjeyeon Waterfall brings to the eyes of its tourists, is an assurance that the place is taken care of, developed more, maintained for and preserved more by the Korean Government as a whole with its unified intents and efforts to care for Nature.
Dadohaehaesang National Park
Have you ever encountered an insightful instinct in your mind, as to where in Korea can you see an amazing twist that will surely encompass your expectation of the country? Then, I proudly present to you the Dadohaehaesang National Park. The Dadohaehaesang National Park is the biggest national park in Korea. It has a total land area of 896.3 square miles. Upon entering and visiting the national park, you will be given an array of 1,700 islands and islets to see and encounter for yourself with guidance by the designated guides, of course. Each of the islands and islets of the National Park is rich in biodiversity. To prove such, its bio diverse composition is comprised of birds, plants and other water species. Each naturally beautiful location in Korea has its own highlights. But for the Dadohaehaesang National Park, the highlights are the Heuksando which means, "Colorful Camellia flowers", the Hongdo or 'Amazing Sunset", and the Baekdo or "ancient mysteries." According to the country's Tourism Department, the best time to visit the national park is between July and August, in order for tourists to witness and see a majestic and perpetual view and imprint a memorable encounter in your memory, with your visit to the national park. Thus, when in Dadohaehaesang National Park, you are not only about to witness and conquest the divinity and multi-faceted ambience of the place, but you are also given the opportunity to unite with nature during your stay and visit in the national park.
Wolchulsan National Park
Would you like to increase your biodiversity experience when in Korea? Then, heading up to the Wolchulsan National Park, will surely be an advantage and response to your intent. The Wolchulsan National Park is relatively small compared to the Dadohaehaesang National Park, with 21.9 square miles only. But, the unique characteristic of this National Park is that, it is rich in biodiversity, as well as with the evident natural resources that makes the national park, captivating. Upon entering the park, you will see its highest peak which is the Cheong-Hwang-bong Park, which sits at 2,654 feet. Another majestic sight to behold in the Wolchulsan National Park is a 52-meter-long Cloud Bridge, as well as a variety of other wonderful sceneries are also something to expect when you visit the National Park because of its rock formations and a pagoda on its west part. So when in Korea, do not forget to include in your bucket list, the Wolchulsan National Park, so that your Korean Tour will be an experience that will surely create a big impact in your tourist life. A visit to the Wolchulsan National Park will surely guarantee you with the bountiful insights that this majestic country offers to its tourists.
Bukhansan National Park
Another naturally beautiful location that you should not miss to visit when in Korea is the Bukhansan National Park. The Bukhansan National Park is located in Seoul, South Korea. The Korean name of the National Park which is Bukhansan means "mountains north of the Han River" in the English language translation. This national park is home to the three granite mountain peaks, which is known in Korea as the Triangle Mountain. The Triangle Mountain is named in Korea as follows: Baegunbong, Mangyeongbong and Insubong. The national park shares its unanimously rich biodiversity with the other national parks of Korea, as well as its variety of different cultural and historical sites to visit for by first-time tourists, is an added highlight to the national park. The Bukhansan National Park is also home to the most beautiful landscapes of Korea which are evident in its valleys and ridges, as well as with its religious sites such as Buddhist temples and hermitages. So when in Korea, if you are looking for a place that offers peace and tranquility, and if you enjoy walking and hiking as physical activities, the Bukhansan National Park is the perfect place for you to visit and go to.
Nami Island
Just a side fact to this majestic island, the Nami Island, was featured in one of the famous Korean novelas shown in the Philippines, way back in 2005 entitled: "Endless Love 1- Autumn in my Heart." Because of this Korean novela, the spur of interest for every Filipino to visit this island when in Korea, is of utmost importance to be enlisted in their bucket list. Nami Island is a popular tourist destination and naturally beautiful scenery to visit when in Korea. It is located in the middle of the Bukhangang River, which is 63 km away from Seoul, South Korea's capital city. The island is considered a popular filming ground for famous Korean novelas like for example, the Korean Novela that I mentioned above which was shown in the Philippines that had its setting in Nami Island, entitled, "Endless Love 1-Autumn in My Heart." Upon visiting the island, tourists will enjoy a bountiful surrounding that is filled with chestnuts, poplar and mulberry trees. Another highlight that this island offers is the numerous sculptures that represent love and a romantic path lined with tall metasoquias. Koreans who visit Nami Island are in general, relaxed and enthused with the beauty of nature, since this place serves as their escape from the busy city life of Seoul. So for first-time tourists, never miss the opportunity to include in your bucket list, the infamous Nami Island of Korea; wherein your desire to unwind and to bond with nature will be rolled into one because of the simplicity and inclination of the place to Nature. I personally have visited Nami Island during my 5-day tour in Korea, and one thing I can assure you about this place is that, you will surely feel secure, safe and comfortable during your visit and stay to this highly-coveted Island in Korea. Truly a gateway to paradise, and an escapade that you will surely enjoy, this is an assurance that Nami Island gives to its visitors daily.
Gosu Cave
Would you like to conquer your fear of travelling in an underground experience? Are you in for an unforgettable travel experience? Well then, the best place for you in Korea is the Gosu Cave. The Gosu Cave is located in North Chungcheong in South Korea. In description, the Gosu Cave is a 5.4 kilometer long limestone cave that was formed over 450 million years ago, based on Korean History records. The Gosu Cave is known as the "Underground Palace", and is enlisted as Korea's "Natural Monument No. 256". The Gosu Cave's share to the rest of the world in terms of highlights and features is its impressive cave formations such as the cave pearls, brimstone pools, cave corals, stalactites and stalagmites. Thus, if you are in the region of North Chungcheong in South Korea, never miss a day to visit the Gosu Cave, and you will surely be amazed with its features that are intricately inclined to the cave.
With the above-mentioned naturally beautiful locations in Korea, surely, Korea is a country that you would want to visit someday with your family and friends. Take it from me, because based on my experience, it is not only the naturally beautiful places that makes Korea unique, but furthermore, it is the Korean Hospitality that would stand out during your stay in the country. Because I have seen myself, how hospitable, friendly, smiling and approachable Koreans are during my travel and stay in Korea.