The Best Places to Visit in Japan for First Time Travelers
It's such a wonderful experience to go and travel to a lot of places all around the world. There are a lot of beautiful wonders that the Earth holds so we must take up the chance to see it all.
You can also take it as a vacation, somewhere you can relax and unwind and just enjoy quality time all by yourself or with the people you love. It's important to take this opportunity as some people might have only one chance to do this. One thing that you must certainly do is to make sure that your experience is very much worth it and fun.
Travelling can be very nerve-wracking especially for those who do it for the first time. There's a lot of uncertainties that can come with traveling especially to a foreign place where you don't know anyone or the people there speaks a different language.
It's harder if the people in that certain place or country don't understand English. Although it is very rare to find a place where people don't understand English, there are a lot of places where natives find it hard to speak in English but they sure do understand.
You may also be uncertain about the safety and accommodations that you will have in a certain place. All these worries are very understandable but do keep in mind that the only way to truly overcome these struggles is to take that risk and travel.
Just make sure that you are prepared for anything that may happen. It will help you prevent any problems from coming up while you are trying to enjoy yourself on your vacation.
If you're looking for a place to go to, especially if you are a first-timer, then you must choose Japan. Japan is one of the countries in East Asia that is very well known for its rich culture.
It is also the home of more than a dozen UNESCO World Heritage Sites that boasts of Japan's captivating history. There are a lot of places that you'll surely enjoy visiting and a lot of foods that you'll love to eat all over again.
To help you with this, here is a list of places in Japan that is perfect to visit especially for traveling beginners.
Tokyo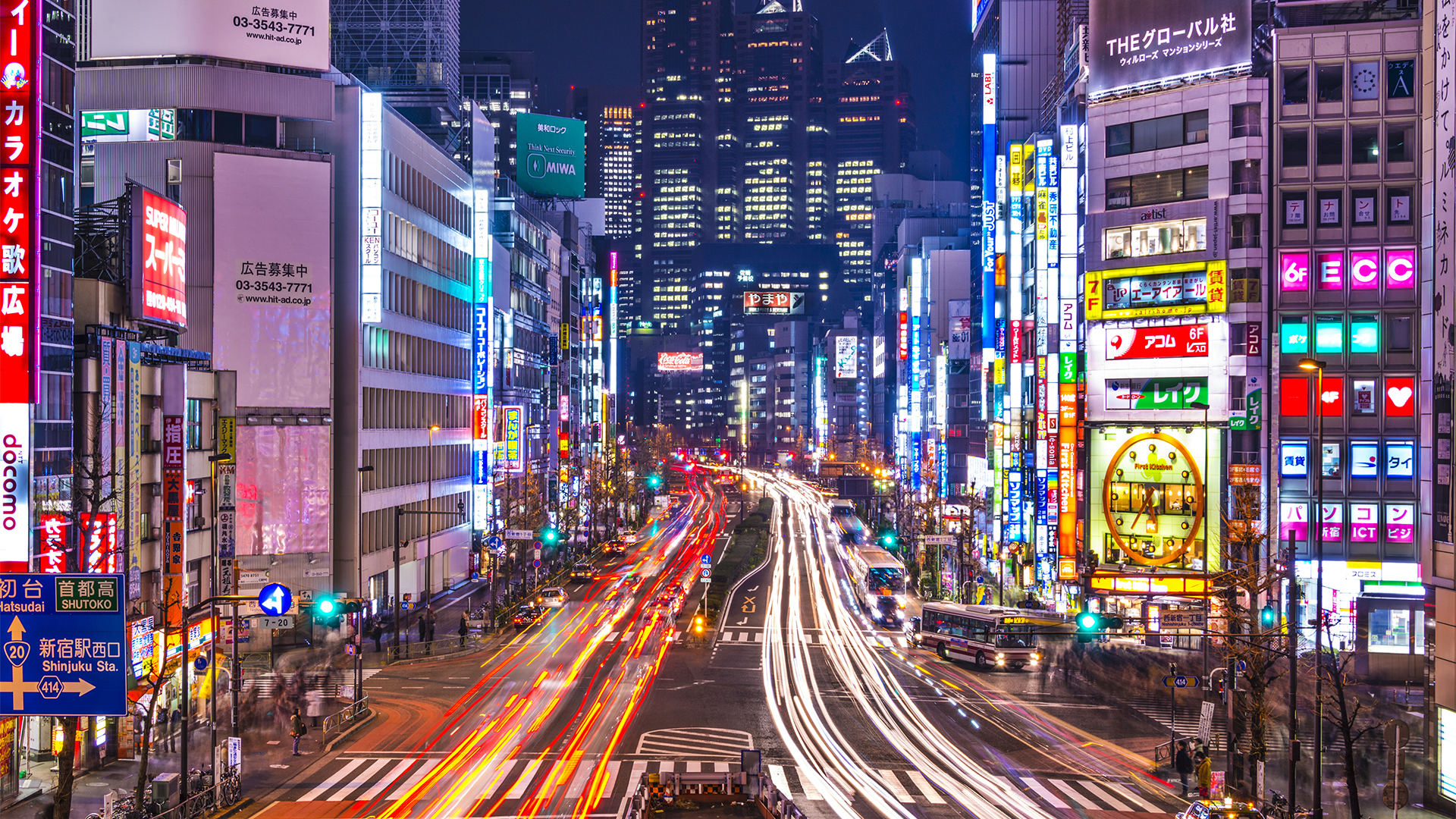 While Kyoto is focused on featuring the traditional side of Japan, Tokyo is its ultramodern counterpart.
It is famous for its busy city life filled with skyscrapers, noisy arcades, busy pedestrian crossings, and lots of incredibly delicious restaurants that are a must-try.
If you have that great sense of passion for eating, you will never run out of choices while in Tokyo. Even vegetarians here eat so well. If your main goal was to travel instead, Tokyo also offers destinations that will not let you get bored even for a second.
To help you find the best places to add to your itinerary, here are the top sites that you must visit in Tokyo.
Shibuya
Shibuya is a major commercial and business center in Tokyo. It is the house to the two busiest railway stations in the whole world, Shibuya Station and Shinjuku Station.
You can even find the famous Hachiko statue in the Hachiko gate of Shibuya station. This gate also leads out towards the Shibuya crossing, a popular site that has been showcased in a lot of Hollywood movies.
There are also a lot of stores, bars, nightclubs, restaurants, and shopping malls around the area that you may enjoy and spend your time with
Asakusa
Asakusa is for those people who would want a little more traditional feel to their vacation.
There is a gorgeous temple in the area that is lined up with a lot of local street vendors. You can rent out a kimono from one of the many shops around the temple for a cheap price. They will let you wear the kimono for the whole day and make you feel like royalty of ancient Japan while you take a lot of pictures.
Make sure to bring home souvenirs and Japanese delicacies that the local street vendors sell.
Akihabara
Akihabara is perfect for all anime and manga lovers out there. This place offers a different scene from almost all of the areas in Tokyo.
Stroll around the area with a lot of people cosplaying their hearts out. Enjoy your time along the area with the different themed cafes located in almost every street that there is.
Check out the different stores that offer a lot of different things such as electronics, video game consoles, and anything that is related to manga or anime.
Make sure to check out a certain shop called Super Potato where almost every old video game console is available.
Nara
Nara is said to be Japan's first permanent capital and is filled with historic treasures including a lot of UNESCO world heritage sites.
Boasting three UNESCO World Heritage Sites including a total of 20 individual venues, Nara is the jewel in Japan's World Heritage crown which makes it a top attraction of Japan and is a rewarding experience while visiting the temples and looking at a wild deer in Nara Park.
You can spend a full day here after a day from Kyoto to appreciate its highlights.
Kasuga Grand Shrine
The Kasuga Grand Shrine, also known as Kasuga-taisha, is a Shinto shrine in the Nara prefecture.
It is a shrine for the Fujiwara family and was originally built in 768 CE and has been rebuilt countless times over the years. This place is famous for the number of bronze lanterns inside the shrine and stone lanterns outside of it.
The Kasuga Grand Shrine and the Kasugayama Primeval Forest in the area are registered as a part of the UNESCO World Heritage Sites and Historic Monuments of Ancient Nara.
Make sure to visit this area during the Festivals of Setsubun Mantonoro on the 3rd of February of every year and Chugen Mantoro on August 14 to 15 of every year.
During these times, 3, 000 shrine lanterns are all lit up at once. It's a great experience to see this exquisite event with your own eyes.
Todaiji Temple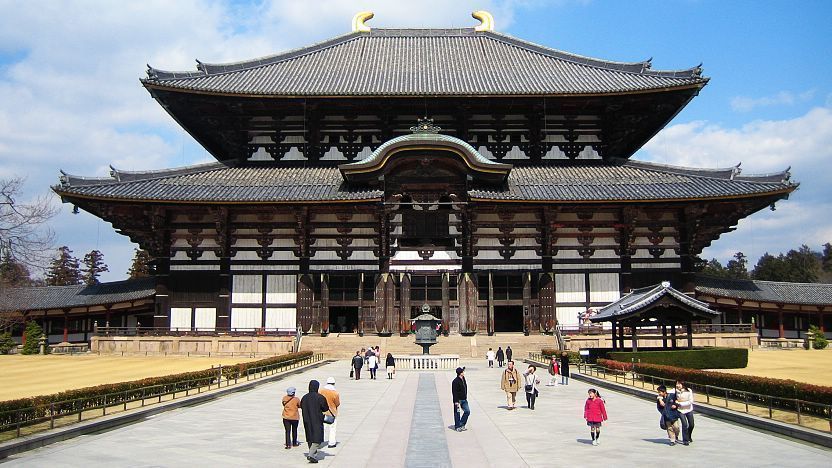 Todai-ji, also known as the Eastern Great Temple, is a temple complex with a Buddhist temple that was once a part of the most powerful Seven Great Temples in Nara, Japan.
The Great Buddha Hall, also known as Daibutsuden, is very popular for the fact that it currently holds the largest bronze statue of the Buddha Vairocana, also called Daibutsu in Japanese.
This temple also serves as a headquarter in Japan for the Kegon School of Buddhism. It is recognized both as a Historic Monument of Ancient Nara and one of the UNESCO World Heritage Sites.
Osaka
Osaka has also been famous to the tourists for the neon craziness of Dotonbori, the amazing variety of food that even vegetarians could enjoy, friendly and polite people, affordable prices, and the scary rides, and the world-famous brilliant Harry Potter World at Universal Studios Japan where you can taste Butterbeer and experience what it feels like to be a wizard if you are a Harry Potter fan.
To help you find the best places to add to your itinerary, here are the top sites that you must visit in Osaka.
Osaka Castle and Castle Park Osaka
Osaka Castle is a Japanese castle that is an important cultural asset of the Japanese government.
The complex is made up of 13 structures with a large park area. Take a nice stroll down Osaka Castle Park and take a lot of exquisite pictures while you are in the area.
This castle is generally open to the public and easily accessible at all times. Make sure to visit this place during the bloom of cherry blossoms to see the castle grounds be filled with food vendors and performers while there are beautiful views created by the cherry blossom trees. It's a once-in-a-lifetime opportunity to see a Japanese castle up close.
Dotonbori
Dotonbori is one of the most famous tourist spots in Osaka, Japan for both domestic and international.
It is popular for its entertainment and nightlife area with its eccentric atmosphere and large illuminated signboards that bring a lot of life to this place.
Enjoy a night in this bustling area with all of the shopping malls, stores, restaurants, nightclubs, and bars in it. It's going to be one of the best experiences that you will ever experience.
Kyoto
If you don't have enough time to roam around Japan, Kyoto can be one of your top priorities.
This ancient capital offers a lot of reasons to visit, from historic temples, colorful shrines to a rich culture. It consists of over 1,600 historic Buddhist temples which are mostly dating back more than a millennium.
It has also one of the world's largest collections of UNESCO World Heritage Sites including 12 Buddhist temples, 3 Shinto shrines, and 1 historic castle that you must surely not miss on your trip to Kyoto.
Take time learning how to cook traditional Japanese cuisine and try taking the train to the village of Kibune or walking across the valley to the beautiful Kurama-dera temple.
Also, don't miss out on their magical Kyoto cherry blossom spots if you have the chance to visit in late-March or early-April. Kyoto is the historic heart of Japan that is just waiting for you to enjoy its memorable town filled with experiences that you will surely not forget.
Heian Shrine
Heian Shrine, also known as Heian-Jingu in Japanese, is a Shinto shrine that is ranked as a Beppyo Jinja or top rank for shrines by the Association of Shinto Shrines.
This site is listed as one of the important cultural properties in Japan. You can take pictures with the Heian Shrine Torii Gate, the Main Gate, the castle in the corner called Soryuro, and even around the lake area.
Make sure to stroll around all the possible places that are allowed for visitors to get the feel of a Shinto shrine.
Golden Temple
The Golden Temple, also known as Kinkaku-Ji and Temple of the Golden Pavilion, is a Zen Buddhist temple that is arguably one of the most popular buildings in Kyoto.
This building is located in the Rokuon-ji temple complex, Rokuon-ji is the official name given to this temple. It is recognized for a lot of things such as being a National Special Historic Site, a National Special Landscape, one of the 17 locations that make up the Historic Monuments of Ancient Kyoto, and one of the UNESCO World Heritage Sites.
Arashiyama Bamboo Grove
The Arashiyama Bamboo Grove is one of the most popular tourist destinations in Kyoto.
It's also one of the most photographed sites in Kyoto. But one thing that you should know is that no picture can give you the feeling of seeing this site with your own eyes.
This area is very much well known all around the world for its tall bamboo trees lined up side by side that gives such beauty. This place is easily accessible for everyone so make sure to visit this place once you have the time to go on a vacation in Japan.
There are a lot of walking tours along the area to give you a more detailed experience along the Arashiyama Bamboo Grove.
Kiyomizu Temple
The Kiyomizu Temple, also known as Kiyomizu-dera and Otowa-san Kiyomizu-dera, is one of the Buddhist temples in Kyoto, Japan.
It is also recognized as one of the UNESCO World Heritage Sites and a Historic Monument of Ancient Kyoto. The complex is full of beautiful buildings and scenic views that you will surely enjoy even a stroll around the area.
It's a nice place to visit and take pictures in so pack your bags and get ready for a once in a lifetime experience in Japan.